クエスト: The Howe Family
前振り:
Vigilのクエストを進めていると、中庭にGroundskeeper Samuelという老エルフが現れる。 Nathanielを連れて近づくと、彼のパーソナルクエストが発生する。
Samuel はHowe家に仕える使用人であり、幼い頃からの知り合いのようだ。
彼から、Nathanielの兄が戦死したこと、姉妹のDelilah (ご存知、男Human-Nobleなら、Rendon Howeからしつこく結婚話を勧められていた彼の娘) は ある商店主と結婚してAmaranthine Cityに暮らしているという話が聞ける。 喜んだNathanielから、首都に寄ったときに姉妹の行方を捜しても良いかと頼まれた。
Delilahを探す:
ある程度Amaranthine市内のクエストを進めないと、彼女には会えない。
必要条件を満たすと Market Row というマップの×印にある辺りにDelilahが現れる。 Nateを連れて近づくとイベントが発生する。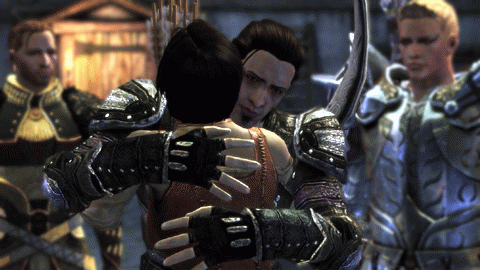 Delilahは自分の父親の罪を認識して恥じており、離れた土地にいたために何も知らないNathanielに真実を語った。 しかし姉妹の口から直に語られても、パパっ子だったNateはまだ心の底から父の悪行を信じきれない様子だ。
*****************************************************
Nathaniel
: Delilah? Is that really you?
Delilah
: Nathaniel! I had feared the worst!
N: Times must have been hard, Delilah. But you can do better than this. Come back to the estate until we find somewhere else.
D: What? (Laughs) Oh, Nathaniel! I didn't marry Albert out of desperation. I adore him!
He's so much better than that stuck-up Cousland boy that Father kept trying to set me up with...
I'm right here.
D: Oh. Er. That was you, wasn't it?
Awkward!
And I... I'm sorry about your family. What my father did was... terrible. Thank the Maker I'm finally away from his evil.
N: Father's evil? Isn't that overstating things a little? He got caught up in politics...
D: You weren't here. You didn't see what he did, Nathaniel.
You want the culprit who destroyed our family? It was him, without question.
N: I... had no idea.
D: Of course you did. But you always worshipped father, right from when you were a little boy.
Come, brother. Let us sit and catch up a bit, shall we?
*** *** ***
She said she wants me to come back, once all this is done. Meet her husband. She's due by the spring.
She seems happy. She said Father deserved to die! I still can't believe it.
You don't believe her?
I thought he had his reasons. It was a war, for Andraste's sake!
Before I went to the Free Marches, he was never... how could he have changed so much?
It's not your fault, Nathaniel. (+6)
What if I'd never left? I didn't have much choice, but still...
I wish I'd know some of this sooner. I feel like such a fool.
Now, please... let's get back to our business. I need to think.